setanor, September 30, 2005 at 9:27:01 PM CEST
MAXIMO PARK "Apply Some Pressure" (Version 2) dir. Diamond Dogs
Previously: version 1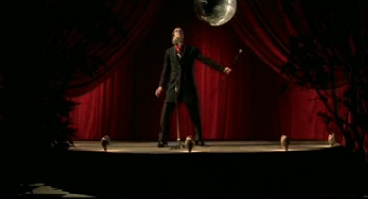 I'm pretty impressed, actually. Anyone know the director?
rad!
"Better late than never Colonel Blimp returns from late summer hols to see Diamond Dogs cracker for Maximo Park already nestling on the site. Drawing on their art department skills the guys built some killer sets and utilised an idea they had been percolating for a while. The band love it and so do MTV – its already rocketing up the NME chart and has taken Maximo Park onto MTV Hits for the first time. Good work fellas!"
Ahahahahahahahahahahahahahah!!!!!!!!FOOLS!This video is the most pathetic piece of EARTH GARBAGE That I have ever witnessed!And as for "MAXIMO PARK",I have a place for him in my human slave notebook!Along with Green Day,Coldplay,System of the Downed,and MANY MORE!!!!!Ahahahahahahahahahahahahah!!!!!!!!!!You will all know the meaning of pain,FOR I WILL RAIN MISERY DOWN APON ALL OF YOUR EMPTY BLACK HEARTS!!!!!!najork,You are a really gay person.No offence,but man!If I wanted this stupid video,I would have taken it out of the garbage,and you like this trash!I know the director for this FAGMOTRONIC video!He is my brother!!!hakai,IT IS NOT RAD!Now,what I want 4 Christmas is...
A moose, a cheesewhele, a pony, a girlfriend, AND A WHOLE BUNHA DORITOES!!!!!!!!!!!!THIS VIDEO SUCKS ASSSSS!!!!!!
hmmm I wonder what Jaron Albertin thinks of this?
This new has some nice moments though the band and song comes across as a tad more annoying.
Neither versions BLEW me away; though I could see how this is more MTV friendly.
why two videos?
enjoyed this one, definitely more than the first. blindfolded band's a nice touch, and a bloody nose actually suits that sneering fuckface.
more importantly, though: an early christmas cheer for zim...
why bother? I like the first one better.
why two videos? - A marketing ploy. Accordig to their news letter, the single is being re-released now that the band was up for the Mercury Prize and I'm assuming, is more popular. New B-sides, new video.. more money.. This one is a little too slick and annoying for my liking.
i dig it. i found the whole drawer idea rather cute.
jaron's video is better. weirder, creepier, far more memorable. this one is boring and annoyingly "slick". but for the record, that maximo park guy is infuriating. as progosk said, he is a sneering fuckface who comes off as unbelievably pretentious. gah.
The drawer thing is a nice tribute to WB cartoons. And that sinking back into the closet through all the clothes is quite good. But there would have to be a skeleton in the closet wouldn't there?
Argh this is so hard. This Diamond Dogs vid has its good points, but Paul Smith's performance has no tension, and the video only has little.
Jaron Albertin's video has that brooding technological menace which fits the song well, and for which I looove his work -- but I am also a child of the 80's, so it fits me quite well. I love his entire reel.
my favorite maximo park video is their first one for the coast is always changing - the one shot on scratchy reversal film. their sound is not so big as these other videos try to make it, and that's why they always seem like they're trying too hard.
paul does less sneering in "the coast" video, and his stage antics seem more appropriate in the more intimate setting. but here he just seems like a, uhhh, fuckface.
or maybe i'm just a sucker for lo-fi.
Will everyone be happy when every video, is stop motion and after effects and ashlee simpson is a paper cut out, I can safely say that i am sincerely glad i did the devendra video as a portrait.
and the 1st one is better although is does'nt help to dress a bad song in good clothes, more directors should take that into consideration when they choose there work. But then again it does'nt help to dress a good song with a bad director.
GAAAAAAAAAAAHHHHHHHH!!!!!!!!!!!! I know everyone is done commenting on this one a week ago, but i just can't sit here and take this. This is horrific. It is abominable. The lead singer acts so annoyingly I cannot imagine how any human would shoot that and go, "Okay, now let's put it on TV". The art direction is well done but extremely cliched -- anyone see the Equus video for Blonde Redhead? -- and it does not fit the song at all, which leads me to believe that all the directors were doing was trying to get a spiffy and sleek look so they could get it on TV.Instead of going somewhere with it, Diamond Dogs instead opt to just let the drawers open and shut to the beat of the song. Wow. That's f'in brilliant.
The video then degrades into terrible performance footage and a woman in lingerie sitting on top of an armoir in what appears to be a nauseating attempt to be even more accessible by adding "sex appeal". And... Oh, look! The lead singer is still flailing his arms around in an unfortunately unhumourous manner. Who directed this drivel??????????
The video is useless and maddening not only because it sucks but also because it could have been so good if the aim had been to make it interesting, instead of making it quick, easy and profitable. You see all the tools there, but they're just lying uselessly on the floor, unused. GAAAAAHHH!
Finally, I must say that Jaron Albertin's video was EXCELLENT. It was minimalist, it was eerie, it was original, and just like all of Albertin's other stuff, it was wonderful to watch.
This shows me that the band has no artistic integrity at all, and that all they want to do is climb up the MTV2 ladder. And since the majority of the band's appeal was their enigma and artsiness ("Look at us! We're on WARP! We're super-special!!!"), well, their not so appealing anymore.
There was no reason to redo this video. It wasn't orgasmically good, but it was certainly an excellent and more importantly original work that made Maximo Park stand out when really they shouldn't have nearly as much. They have insulted Jaron Albertin and the concept of the music video as an art.
Other than that, I liked it.