akb, March 18, 2005 at 10:40:29 PM CET
The Gloomadeers: Clove Queen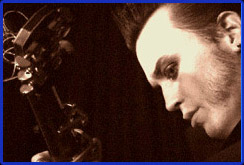 Watch
What genre would you call this? Gothgrass perhaps? Anyway I like it.
[ Gloomadeers | Wolf Stone vids ]
rs3d
, March 18, 2005 at 3:22:43 PM CET
_grau | experimental animation | high res
I already posted _grau, but uploaded a high res version and some sketches ... maybe it's interesting to some of you ...
bradley
, March 18, 2005 at 8:55:54 AM CET
here's a link to The Comas "Invisible Drugs." they are a north carolina based indie rock band..