aspedis3000, April 5, 2006 at 5:54:35 AM CEST
Hot Chip "Boy From School" (Dir: Garth Jennings)
These band make really great videos. Remember videos.antville.org
A fascinating clip with a great payoff at the end - and showing the process made for an overall interesting video, much like the promo for Over and Over. Garth Jennings has made a bunch of great videos.
It's videos like this that puts neil buchanan on the dol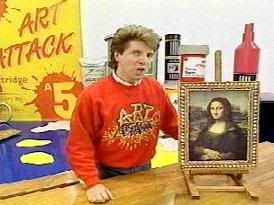 nicely told, but i was expecting something more from the final image, since it was quite reminiscent of datenstrudel's work. as was, the trip's more interesting than the destination.
anyone have another link to this video??... i am having troubles opening the wmv for some reason
Explores similar technique Vaquero / Sunshine: www.gumgum.tv
cath: on a mac you need to use the old windoze media player; flip4mac+quicktime can't handle this one...
how can i download the WMV file? Right Click, Save Target did not work. (PC, Firefox)
Datenstrudel or not, I really like that. Sure the final image could have used some b/g story to it, but overall, it's very cool.
hot chip link fix (wmv)