scudmore
, August 26, 2009 8:35:17 PM CEST
Art of Time Ensemble feat. Sarah Slean - I'll Never Tear You Apart (dir. Scott Cudmore)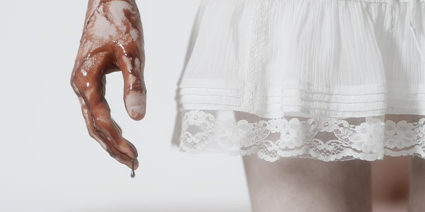 pretty fascinating layers and cadences. (something off, tho, bout the close-ups?)
love her close-up. ghostly.
Solid video Scott - your work is always a pleasure to watch.
That said (and these are just first impressions; I've only watched the video once through so far):
Please note, the following are simply the opinions of one person and should be valued as such :)
The opening is too long and feels unnecessary.
The video's pace is ever so slightly too slow.
I love how sharp and clean the images are and it feels jarring when you cut to Sarah's C.U. with its noticeable softening.
It's stupid, but the scuff mark on the floor in the orchestra setup drives me crazy.
a) Again, cinematography is fantastic.
b) You have an elegant and pleasingly controlled style that results in smooth shots that flow effortlessly into one another.
c) Great casting.
d) I don't like that Sarah's C.U. looks so different from the rest of the piece but I have to admit that the C.U. is beautiful.
Great job Mr. Cudmore and I look forward to watching your next video!
K
Jesus,kalstark.Number 1: GET OVER YOURSELF. This shit is bangin. Go and do something yourself before slanging judgement..otherwise no-one gives a shit what you think TBH.'opening is too long'....'cinematography is fantastic.''I don't like that Sarah's C.U. loo' wow,- thanks kal, like anyone gives a tiny bit of a shit what you think. what the fuck? Who the dick are you to to comment on this excellent edit? Honestly, theese faceless arsey bloggers really get on my tits they really do. I am andy soup btw&fyi. 'pleasingly controlled style ' nigger please.
/me pulls up chair. Grabs a handful of popcorn.
Get ready familiar CAUSE HERE WE GOOOOOO!!!!!
Just kidding. But seriously, Scott Cudmore posted this video on a blog that's known for it's critical discussions about videos. Uhm, what do you think he thought would happen after it was posted?
Also, the whole 'go and do something yourself' argument won't fly. I'm pretty sure most of us will agree that you don't have to be a creator to critically comment on that which has been created.
However, even if your creator argument could work (which it doesn't), I'm a video director as well.
Next up, I prefaced my entire critique by saying that this was the opinion of one person. It could be worth less than nothing to Scott or it could be worth a whole lot. Most likely, it's not worth much to him but it's what I think and I still get to say it.
ASBO, it's 2009 and bloggers, anonymous or otherwise, are a large part of the overall discussion. This means you'll see non-professional critics that are brilliant and you'll also come across the opinions of intentional trolls.
I very much doubt my criticism is brilliant but I promise you that I'm not a troll. That said, welcome to the internet where anyone with a connection can write anything they want.
My best advice to you - if you don't like what someone has to say, ignore it, or don't.
K
P.S. - I'm black and found the last line of your post particularly offensive.
Kal, as far as I can tell, Andy Soup is black too!
Sorry if I offended you Kal, you are completely entitled to your opinion even if it is a tedious one. And no, familiar- in spite of appearances I am not a black man. Kal- again, sorry for offending you; I used the 'N' word in a 'post-modern middle class white dude who grew up listening to Public Enemy' sense and absolutely didn't intend to cause upset. Sorry. I promise I won't do it again.
It's never pleasant to hear/read but I know you didn't know my race so apology accepted (and thanks for offering it). I'd like to do my part as well and say to Scott and the rest of his team that if I did indeed offend in any way I'm sorry; that was not my intention and I'd hate for it to seem like the negative was my focus because I enjoyed the video.
K
Me too.... Note to self: Don't go scribbling rantings on Antville when having just got home after a long evening in the pub. Kal, if you were here I'd give you a hug and buy you a pint. Sorry for being so rude. I was being a tit...for a change.
jeez. group therapy.
hey kal, i was definitely not offended at all. i appreciated your comments and besides, the post seemed positive to me. so thank you!