Britney Spears - Hold It Against Me (Dir: Jonas Akerlund)
Music video by Britney Spears performing Hold It Against Me. (C) 2011 JIVE Records, a unit of Sony Music Entertainment
Beat me to the punch. Dir: Jonas Akerlund. Some nice set design / art direction. Awesome edit too!
thx mw247 for giving the directors name :)
Awesome edit? If awesome is not leaving a shot more than 1 sec, it is. Too much for me. Product placement is ridiculous. Nice set, but the concept is quite poor. She seems bored all the time, not very involved at all.
i thought this is a worldwide video-release, but in europe this clip not available ... ?
it might be just germany, though
but youre not missing anything
very 1999
Oh yes! (mov)
A bit long but not bad.
I truly am in awe that Akerlund made this. I would love to see the treatment he wrote. The story and edit are almost non sensical. Then he has to appropriate a piece done in the late 90's by Alexander McQueen and take all the beauty out of it.
www.youtube.com (it's about halfway through)
this video sucks, too much product placement and jonas akerlund is better than this
Come on egos, you just hate Britney.
Unpleasant.
Since we, as a culture, have decided that we're not going to pay for music - does it make any sense to decry the existence of product placement?
If no one is going to buy her CD but they might buy her perfume - isn't it smart to include some images of the things that DO sell in the video? Do people in the anti-placement crowd also complain that their television shows keep getting interrupted by ads?
product placement is ridiculous. pop music is dead. beggars thinking they're kings and queens. their corporate overlords exposed. this is just shit.
@pancho: Dead? Pop music had a HUGE year last year. Lady Gaga, Bruno Mars, Kanye, Lady Gaga, Minaj, Bieber, Katy Perry, etc, etc, etc. Maybe you're just not in the particular demographic that appreciates it?
Product placement isn't always bad in and of itself (technically, every mv uses the band/song as product placement), it's just not very subtle here. I'm not sure why people are so up in arms about it though- I mean, a BritSpears video isn't exactly sacred ground.
I wanna know when pancho is gonna get back with his band, Rage Against the Machine. There is power that still needs fighting, bro.
lol
lol
so aside from the really classy and obviously necessary product placement in this 'video', what were the other merits? it's shite.
IMHO Britney ends up looking like a transvestite in this spot.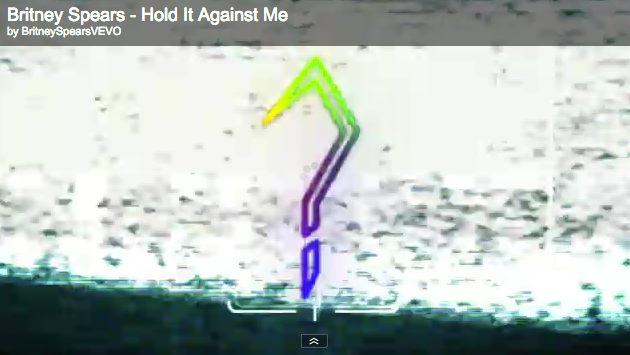 Am I reading too much into this? She looks EXACTLY like a transvestite in this vid. Plus she fights a cross dressing version of herself/two cross dressing versions of herself are fighting and there's a rainbow question mark at the end...
AND WHAT'S WITH THE JOKER FACE?
Interesting context/subtext or just fucking weird?
she looks like xena the warrior princess
Quite disturbing. It makes it more interesting.