jb, July 8, 2005 at 10:11:49 AM CEST
Franz Ferdinand - Michael (dir. Uwe Flade)
Certainly not the best video ever, but a least it exists for one's collection. Quicktime : http://www.uweflade.de/franz%20ferdinand%20--%20michael.htm
Franz Ferdinand - This Fire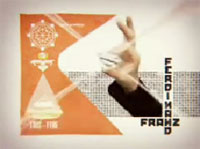 Realvideo of the latest single from past UK Mercury Prize and future US Shortlist Prize winners Franz Ferdinand. I can't help but sense an oh-so intentional Halloween touch to the clip. But, to be fair, their breakout video also featured predominantly orange and black tones. Halloweenies? Overt or covert? You decide...
<a href=www.dominorecordco.com>Franz Ferdinand - This Fire
[NOTE: Be sure to right-click the video and open it up in it's own window so you can view it in Theatre Mode to make it extra spooky. Von hit single. Ah ah ah! DOO hit singles! Ah ah ah ah!]
smal
, February 1, 2004 at 3:07:45 PM CET
Two videos ('darts of pleasure' and 'take me out') by the glaswegian band Franz Ferdinand can be found on the website of domino records.