aliaspail
, October 2, 2006 at 8:01:20 PM CEST
Danielson, Did I Step on Your Trumpet?
It's a Famile affair in the first video from Danielson's triumphant latest Secretly Canadian album, Ships. Featuring singer/songwriter Daniel Smith surrounded by friends, relations, and more cardboard (or are they wood?) cutouts than a fifth grade play, the "Did I Step on Your Trumpet?" clip is crowded, kooky, and joyful-- just like the song.
wickedo
, October 2, 2006 at 2:20:00 PM CEST
The Rumble Strips - 'Oh! Creole' (Dir: Harry Dwyer - Wickedo)
A road movie in three minutes.
15mb QT here: www.rumblestrips.co.uk
do_geese_see_god, October 2, 2006 at 1:05:54 PM CEST
David Bowie "Little Fat Man" (Dir: Ricky Gervais)
Bowie back to Ziggy Stardust standards.
cateris, October 2, 2006 at 1:11:27 AM CEST
Marilyn Manson (dir: Sam Bayer)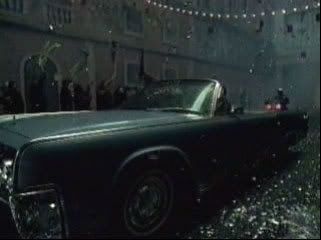 www.megaupload.com (50,81 Mb) .mpg format.
Because I know that some of you wanted to see this again, although it's not in .mov format.
grandia
, October 2, 2006 at 12:27:46 AM CEST
Kane "something to say" / Marco Grandia
www.marcograndia.com We shot this video using the black art principle. Use a dark background and have a bunch of guys walk around in black suits to make the 'special effects' happen. If you look closely you can sometimes see them. I tried to make them very obvious at certain times to make people see new things everytime the saw the video. The camera does not move in the final shot of the video. Besides editing we used no post production at all. That's it.
604
, October 2, 2006 at 12:02:42 AM CEST
JUSTICE The Crusade - Part 1